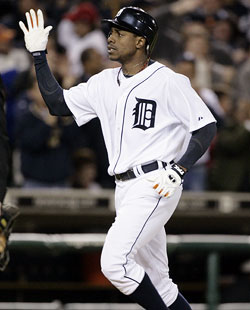 As was the case last winter, when Brian Cashman and the Yankees stopped messing around with the Carl Pavanos and Jaret Wrights of the world and signed CC Sabathia and Mark Teixeira, the team did what it had to do, seeing an opportunity to upgrade the championship team in center field. Note I say "center field." There's always the possibility that the Yankees could say, "Bye, Johnny Damon, we're keeping Melky in center and putting Granderson in left," or something like that, and completely negate the offensive improvement they just made. I don't believe that will happen; if I had to bet I would guess Damon would be back.

Let's talk about the deal as it's being reported. The Yankees get Granderson. The All-Star center fielder turns 29 in March. The good is he has power, speed, and patience. He hits a ton of triples, although those are going to turn into doubles or home runs in Yankee Stadium II—the park just doesn't yield three-base hits. He's a fine baserunner, which the Yankees could use more of, both in terms of stealing bases at a good percentage. He's taken over 70 walks the last two seasons, and he popped 30 home runs this year despite being handicapped by Comerica Park, which is very hard on left-handed hitters. In his career, Granderson has hit .261/.334/.451 at home, .284/.353/.516 on the road. This year, that split was even more pronounced: .230/.307/.388 at home, .267/.345/.516 on the road. There is every reason to think he will be closer to the latter figures in pinstripes.

There are two downsides, one minor, one major. The former is that Granderson strikes out a lot, and if I've learned anything in my years doing this feature it's that Yankees fans (or at least that subset of Yankees fans that read me) can't stand strikeouts. The more serious problem is that Granderson should probably be platooned. He's a career .210/.270/.344 hitter against southpaws, and hit a rather pathetic .183/.245/.239. The Yankees saw a left-handed starter in roughly a third of their games last year, so either Yankees coaches have some insight into helping Granderson get a better look at same-side pitchers or they're going to have to use Melky Cabrera more than is helpful, Melky being a switch-hitter who can't really hit from the right side. He had a little flurry of hitting against them this year, but quickly reverted—he hit .268/.341/.366 against them in the second half. That's better than Melky has ever done against them, but still less than what the average AL right-handed hitter did against them (.271/.344/.436). Regardless, the Yankees are vastly improved in center from where they were at the end of the season.

The Yankees reportedly give up Austin Jackson, who emphatically does NOT profile as an impact player and hit .260/.296/.328 in the second half; Phil Coke, a spot lefty who held same-side hitters to a low average but also was extremely vulnerable to the home run; and Ian Kennedy, who will be a far better pitcher in the NL than he ever would have been for the Yankees. Kennedy came back nicely from his medical problems and is the real source of pain in this deal because the Yankees may need help at the back of their rotation, but that pain will be transient as the rotation starts to take shape and we learn how the Yankees will fill it out.

The Tigers receive Jackson and Coke plus Max Scherzer and Daniel Schlereth from the Diamondbacks. They reload their bullpen and their starting rotation in the move, and get to see what Jackson is made of in center. This is an offensive downgrade but a bumper crop of pitching. The D'backs gave up the store in this one, unless Scherzer has some immoral habit that isn't public knowledge. He's one of the best young pitchers in baseball, gets a ton of strikeouts and grounders, and had an ERA under 4.00 away from his hitter-friendly home park. Schereth is a 24-year-old lefty with control problems but lots of upside, as he can get the fastball up to 98 mph.

In return for their generosity, the D'backs get Edwin Jackson from the Tigers, an arbitration-eligible hurler with great stuff who tends to forget how to pitch in the middle of ballgames. He had a first-half ERA of 2.52 and a 5.07 second-half ERA, and that pretty much sums up his career. On the plus side, he's just 26 so he's still young enough to find some consistency.

Arizona also gets Kennedy. I suppose they get two starters where they had one starter and a reliever, but Scherzer might be better than Jackson and Kennedy put together. The deal doesn't make much sense from their point of view, but I'm sure the Yankees and the Tigers thank them for playing.